Ali Baba Pizza
Establishment and food at 1 Ferry Causeway, Delta, BC V4M 4G6, Canada. Please contact Ali Baba Pizza using information below: address, phone, fax, email, opening hours, customer reviews, photos, directions and more.
Opening hours
| | |
| --- | --- |
| Sunday | 08:30am — 09:00pm |
| Monday | 08:30am — 09:00pm |
| Tuesday | 08:30am — 09:00pm |
| Wednesday | 08:30am — 09:00pm |
| Thursday | 08:30am — 09:00pm |
| Friday | 08:30am — 09:00pm |
| Saturday | 08:30am — 09:00pm |
X
Photos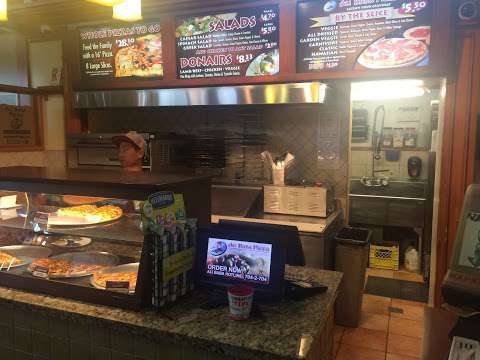 Reviews of Ali Baba Pizza
Erik de Vries Added 2018-11-05

★ ☆ ☆ ☆ ☆

Twice as expensive as almost any other Ali Baba location. I thought they were joking when I ordered and got a single slice, but no. As a bonus, they throw old, cold slices of pizza back into the oven for a moment to heat them up again.

People, if you want me to pay 7 bucks for a SINGLE SLICE of your product, when in Duncan I can have TWO fresh slices for that price, it had better be absolutely fresh, not made a few hours before and dried out in your oven again for my dining pleasure.

John Arnett Added 2018-10-28

★ ☆ ☆ ☆ ☆

$6 for a sus slice of pie, will not be back.

Zee Ali Added 2018-09-28

★ ★ ★ ☆ ☆

Great food but again service was hit n miss, I get they deal with rude people, but some of us would like a smile

andy m Added 2018-09-04

★ ★ ☆ ☆ ☆

Good pizza. The young girl and boy working on Sunday were very rude. No hello, no thank you, and just threw my pizza at me. They were on their cell phones. Being a business owner, I would look for new workers.

momentoftransition Added 2018-09-02

★ ☆ ☆ ☆ ☆

Zero stars. They had one kind of pizza only and for 6 f-_$#&ing dollars it is half the size of an Ali Baba slice in town. This is a joke. I want my money back. Never eat here. Totally taking advantage of the captive crowd at the terminal these vultures leave you dissapointed. Other reviews of satisfaction make me wonder if the guys I dealt with were actually ripping the place off by selling twice as much pizza and pocketing cash sales. Either way it was very unsatisfactory.